Marcio da Silva

We are very pleased to welcome Marcio Da Silva as our Musical Director, as from July 2021.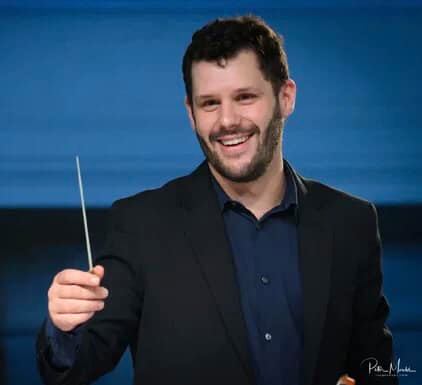 Born in 1983 in Belo Horizonte, Brazil, Marcio da Silva began his music studies at the age of 9 with piano lessons and choral singing. As a young boy-soprano he performed as a soloist in Germany, Italy and Brazil, including performances for audiences of over 32,000 people. In 1998 he travelled to the United States, where he studied in Arizona for six months, graduating from the renowned Phoenix Boys Choir. At the age of 15 Marcio founded a vocal ensemble called Grupo Angels, which went on to be awarded the Silver Diploma at the Cäcilia Choir Days Competition in Limburg, Germany, and to be one of the finalists at the II Funarte Choral Competition in Brazil. From a young age Marcio also gained extensive experience in opera, beginning as a child soloist at the Palacio das Artes in Belo Horizonte, and later at the Théâtre du Capitol de Toulouse, and the Théâtre des Champs Elysées and the Théâtre du Chatelet in Paris.

In 2006 Marcio received his Diplôme d'Études Musicales in voice from the Conservatoire de Toulouse, France, in the class of Mme. Anne Fondeville. He also studied choral conducting with Professor Rolandas Muleika, and orchestral conducting with Professor Stephan Cardon.

Marcio continued to develop his orchestral conducting skills, studying under Professor Scott Sandmeier at the Musikhochschule, Freiburg, where he gained his Bachelor of Music degree in July 2011. He then embarked on a Master's in orchestral conducting at the Royal College of Music in London, studying under Professors Peter Stark and Robin O'Neill, and graduating in July 2013. He gained various awards during these years. He was awarded fourth prize at the Giuseppe Patané Conducting Competition in Grosseto, Italy in 2008. Four years later, he was one of three conductors chosen to take part in the London Symphony Orchestra Conducting Masterclass with Sir Colin Davis. In November 2014 he was one of three finalists at the Princess Astrid International Conducting Competition with the Trondheim Symphony Orchestra in Norway.

Marcio has wide-ranging international experience as an orchestral conductor, having worked with orchestras in Germany, Italy, the Czech Republic, Brazil, Poland, Turkey and Kosovo. He also has considerable experience of oratorio, having conducted most of the mainstream romantic and baroque oratorio repertoire. As well as conducting Hastings Philharmonic Choir, Marcio is the Music Director of the Grange Choral Society, Christchurch.

Marcio was Music Director of Woodhouse Opera from 2012 until its final season in 2018. In 2013 he founded his own company, Ensemble Orquesta, specialising in the performance of baroque opera. In the past eight years Marcio has conducted and directed over twenty fully staged opera productions, ranging from less regularly performed works such as Lully's Armide, to very popular works such as Bizet's Carmen, Mozart's The Magic Flute and Puccini's La Bohème. Since 2014 Marcio has organized several Opera Academies each year. These have given many singers from across the world the opportunity to study and perform an operatic work at a high artistic level. During these courses Marcio offers coaching in languages (being fluent in seven himself), vocal technique, style, interpretation and staging.

As a singer (baritone and countertenor) Marcio has recently performed the roles of Arnalta in Monteverdi's L'Incoronazione di Poppea, Mercurio in Cavalli's La Callisto, Aristone in Cavalli's Xerse, Thésée in Rameau's Hippolyte et Aricie, Colas in Mozart's Bastien et Bastienne and La Haine in Lully's Armide. He also performs regularly as a recitalist.

Marcio is also a composer. His works include choral a cappella pieces, art songs with piano accompaniment and a Te Deum for soloists, chorus and orchestra.

Marcio is also Musical Director of Hastings Philharmonic Choir.